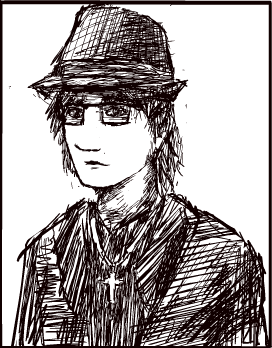 Alias claims that this is him but we're
pretty sure he's actually some sort of cat.
W.A.O. Draper, a.k.a. Alias Pseudonym, is a reclusive university-level English student living in a small, exceedingly untidy dorm room in Calgary, Alberta, Canada. His interests include reading, writing, drawing. He enjoys anime; such titles as Serial Experiments Lain, Naoki Urasawa's Monster, Paranoia Agent and some show about pirates are among his favourites. He is not a huge music person but his favourite bands include Dream Theater and the Barenaked Ladies. He typically dresses in black and has a great fondness for awesome hats (as shown). He spends a great deal of time on the internet and can be found skulking around on this site's chat most days. Observations suggest that there may be something somewhat feline about him. He sometimes writes depressing stories about wizards and stuff. His goal in life is to never write a best-selling novel.
Like most webcomic creators, he had no idea what he was doing when he started with Vigil. It began as a combination of a world he had invented solely to invent interesting animals, an older story of the same name which had nothing to do with the present plot except for the main character's name, and some vague thoughts about the epic poem (not the movie) Beowulf (to which there are still some references). It has since then evolved into a sort of science fiction/alternate history epic about monsters, medicine, mortality and zombies. There are a number of possible explanations for the use of anthropomorphic animals, but chief among was Alias' total inability to draw humans when the comic started (he's gotten a bit better since.)